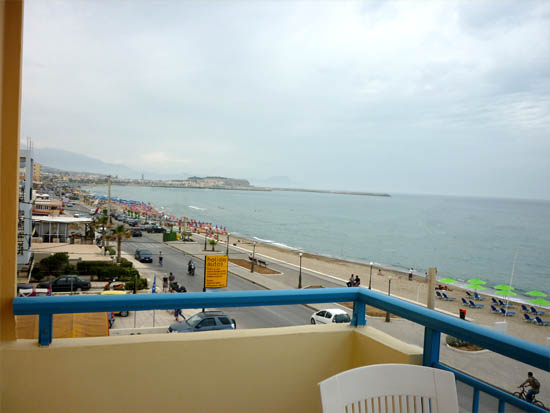 The seaside east of the city is a well organized beach, that has been awarded with the Blue Flag, with satisfactory facilities and services for the relaxation and enjoyment of our visitors, like deckchairs, parasols, water sports, showers, etc.
The location of MAR EL apartments on the promenade and in close distance to the city, gives you the opportunity to enjoy a walk or a ride by bicycle to the city along the beautiful beach as well as the
walks in the city
, visiting all the interesting sights, like
Fortezza fortress
, the
Museum
, the
Art Gallery
, the Venetian Port, the Old City of Rethymno, the Municipal Park, and many more.
You could also take your breakfast, lunch or dinner, have your drinks, dance and enjoy the nightlife at the numerous restaurants, cafes, bars and clubs around MAR EL and in the city.
In the wider area around Rethymno, you could visit many important historical sites, like the
Late-Minoan Cemetery at Armeni
, the
Archaeological site of Eleftherna
, the
Arkadi Monastery
, the
Preveli Monastery
, etc., landscapes of outstanding beauty and ecological value, like the
gorges of Prasses and Myli
, the oak forest of Kastellos, lake Kournas,
lake Preveli
, etc., and many more.
In addition, either on the north coast or the south coast of the province of Rethymno, you could find many beautiful beaches, from organized to isolated ones, that could satisfy even the most demanding ones.